Syracuse International Airport Announces ParkSYR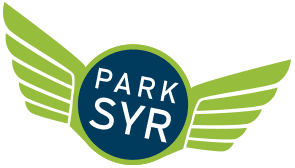 Syracuse, New York –Syracuse Hancock International Airport is pleased to announce ParkSYR, a new efficient way to park at Syracuse International Airport.
The program, which is much like the NYS EZ Pass system, gives members automatic entry/exit to the airport parking garage and open lot. When enrolling for the program, members can either choose to register their existing NYS EZ Pass device or the airport will mail them a ParkSYR device. Once enrolled, members will be able to automatically pass through designated entrance and exit lanes.
The ParkSYR program will automatically charge the parking duration to the credit card provided at the time of sign-up. ParkSYR members will also earn rewards points for every dollar that they spend for parking. Reward points can be redeemed for any of our terminal concessions. All new members will get a $5.00 bonus certificate for enrolling before March 1, 2017.
Click here to sign up.