Free Wi-Fi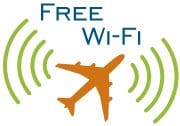 Syracuse Hancock International Airport is proud to offer free wireless internet access throughout the airport. Access this service from anywhere throughout the airport terminal, including the main terminal, Concourses A and B, areas right outside security, and in the baggage claim area.
We also have laptop work stations located in both concourses where you can comfortably sit and work on your laptop or mobile device and even charge up while you wait for your flight.
To Connect
Launch your Web browser to the Wi-Fi splash page. Accept the service terms and your connection will be activated. In some cases, you may need to set your SSID to "SyracuseAirport_Public".