Parking/Landside Redevelopment Plans at SYR
Background
Passenger traffic at Syracuse Hancock International Airport reached record-breaking levels in 2019, and parking demand followed suit. As traffic rebounds to near pre-pandemic levels, parking demand has once again surged. To meet this demand, the Syracuse Regional Airport Authority (SRAA) – operator of SYR – has engaged the services of Landrum & Brown to plan how the landside portion of the airport needs to develop to meet the needs of the traveling public.
SRAA Board-Approved Landside Concept
In April 2022, the SRAA board approved a future landside concept that will be used to help guide development of the final design. It is anticipated that this landside improvement project will result in an estimated 44% increase in parking capacity, equating to almost 2,000 additional parking spaces. Most of this parking will be located in the new parking garages, providing all-weather protection and shorter walking distances to the terminal for customers. The landside project will also include a doubling of curb front capacity to eliminate existing bottlenecks and provide space for growth. New circulation roadways and a proper canopy will further enhance the customer experience. A new consolidated rental car facility and ground transportation center will also be constructed on the existing overflow parking lot, which will substantially improve the experience for rental car and transit users.
Construction is expected to begin in 2023 on this multi-year redevelopment plan. The SRAA expects this to be a long term solution to accommodate the unprecedented growth the airport is experiencing while improving the passenger experience.
Rough Timeline and Updates
As of late 2022, the project has moved into the Design phase. The airport authority intends to seek multiple funding sources to bring this massive landside overhaul to fruition. The SRAA appreciates the public's patience and understanding in the coming years as the project gets underway. "Projects of this scale take time, patience, and plenty of communication with all our stakeholders," said SRAA Executive Director Jason Terreri. "The SRAA is committed to enhancing our travelers' experience the moment they arrive on our airport property. This project will increase parking capacity, vastly improve the landside experience in all weather conditions, and increase the efficiency travelers experience when arriving to and departing from our airport via ground transportation."
Early December 2022 Update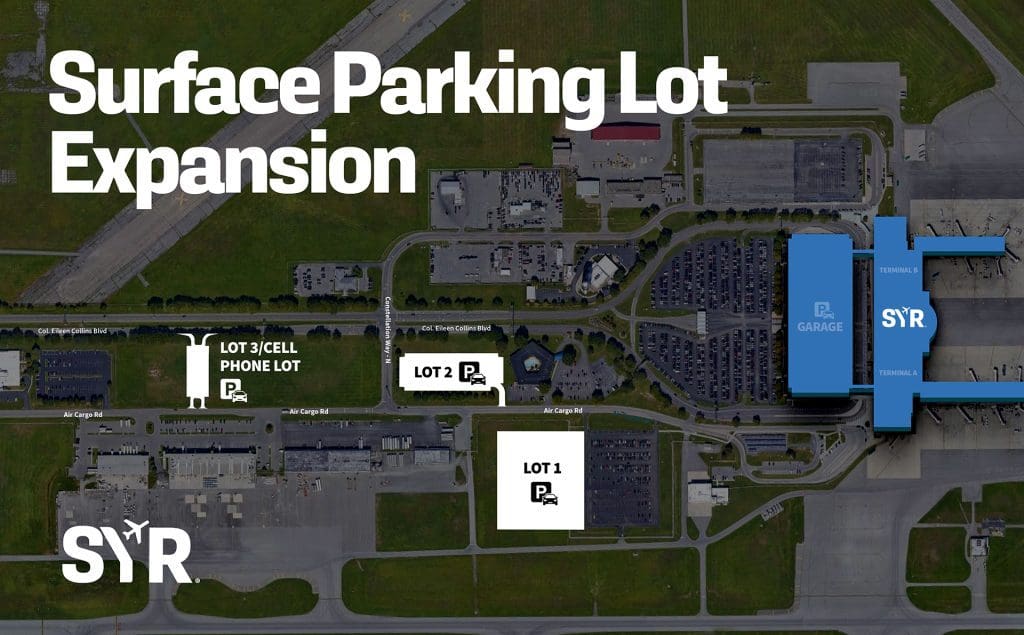 As of the second week of December 2022, the surface parking lot expansion has produced 500 new parking spaces. These spaces will be set aside for now, but available for use if parking demand dictates during higher volume periods such as the upcoming winter and spring breaks. Given the turn in the weather as of this update, completion of the surface parking lot expansion is expected to occur in Spring 2023. Once complete, this surface parking lot expansion will increase parking capacity by another 400 spaces, yielding approximately 900 new parking spaces from this project in total.
Mid November 2022 Update
Travelers are encouraged to continue monitoring the airport's Facebook and Twitter feeds for timely parking updates during high demand periods.